FREE RP FROM DISUNITY, POVERTY - VP NOLI

12 June 2006
VICE President Noli Kabayan De Castro urged Filipinos to unite and celebrate the many forms of freedom they gained since the declaration of Philippine Independence more than a century ago.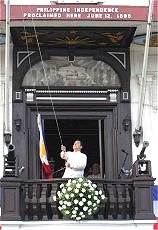 Vice President Noli "Kabayan" De Castro leads the flag raising ceremony at the Aguinaldo Shrine in Kawit, Cavite, in commemoration of the 108th Anniversary of Philippine Independence. Also in photo is Cavite Gov. Erineo "Ayong" Maliksi. (OVP photo by Egay Montana)
Speaking during the celebration of the 108th Anniversary of Philippine Independence in Kawit, Cavite yesterday, De Castro said the country has moved forward with the help of democracy.
However, De Castro said that full development is being hampered by disunity among the people. De Castro noted that Filipinos would reap more benefits from the sacrifices of our national heroes if fighting and conflict among them would stop. We already have a lot of gains since we declared ourselves as an independent nation but what we have not totally freed ourselves from is the fact that there are still Filipinos fighting Filipinos, De Castro said.
De Castro noted that the fight for freedom continues.
"We need to remain vigilant in safeguarding our freedom especially from forces who are only after their interests. Ang totoong kalaban ng Pilipino ay ang kahirapan, kawalan ng pagasa, kawalan ng pakialam at malasakit sa bayan."
Despite these, De Castro said the government has managed to bring more positive developments in the country.
"We have successfully hurdled the fight for freedom and the threats to democracy. We have pursued development under economic and political institutions anchored on sound democratic principles."

He cited the country's accomplishments such as --the increased GDP by 5.1%, narrowing of the fiscal deficit, sustainable revenues from the expanded value-added tax and prudent government spending, a more dynamic stock market, and an "under- control" inflation. All these led to a positive outlook of international rating agencies and helped cushioning us to the oil price increase; gave the country a stable market, low interest rate regime, and not to mention last year's accomplishment of our peso as the best performing currency in Asia.

De Castro also cited the present administration's relentless effort to provide the basic needs of the people particularly in the field of housing.

Moreover, the Vice President pointed out that the biggest challenge remains to be poverty, saying, "Umunlad tayo sa ilalim ng demokrasya. Subalit dapat siguruhin din na merong demokrasya ang pagunlad. Dapat makarating sa taongbayan ang epekto ng malakas na ekonomiya at positibong economic figures."