VP NOLI ISSUES STERN WARNING
VS HOUSE SELLING IN RELOCATION SITES
12 March 2006
VICE President Noli 'Kabayan' De Castro yesterday warned against selling and buying of houses in various resettlement areas covered by the national relocation program.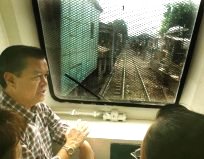 ON BOARD A TRAIN.
Vice President and concurrent HUDCC chairman Noli "Kabayan" De Castro views the long line of houses along the railway while on board the PNR train going to Southville relocation site in Cabuyao, Laguna. (OVP photo by Egay
Montana
)
De Castro issued the stern warning after relocatees informed him that there are some among their ranks who are selling the houses provided to them by the government.


"This is something that I would really hate to happen and I'm serious in having those who are involved in this illegal activity penalized," De Castro said during his visit to various relocation sites in Bulacan and Laguna recently.

The Vice President said the government will provide house and lots to beneficiaries of the national relocation program only once.

"If the government finds out that one of you is selling his house, he will no longer be given another one," he added.

"De Castro pointed out that those found guilty would be evicted from the relocation site. Likewise, the
buyer would also be kicked out from the resettlement area even though he has already paid for the property," he said.

"So let me make my self clear that selling as well as buying of government-provided houses under the relocation program is illegal. I will be you're No. 1 enemy if you violate this policy," the Vice President said.

De Castro explained that despite the lack of sufficient funds to finance the relocation program, the government has been true to its promise of pursuing a shelter program with the homeless Filipinos as its main beneficiaries.

"The beneficiaries must realize that they let go of this once in a lifetime chance to get their own house and lot as well as the opportunity to lift their dignity from being informal settlers to eventual homeowners," De Castro noted.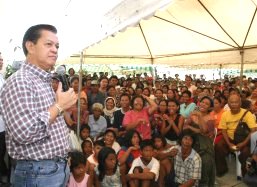 VP NOLI WITH RELOCATEES IN CABUYAO, LAGUNA. Vice President and concurrent HUDCC chairman Noli "Kabayan" De Castro interacts with relocatees from Makati during his visit at the Southville relocation site in Cabuyao Laguna. (OVP photo by Egay Montana) 3/12/06
The HUDCC chairman has been doing the rounds in six relocation sites in Bulacan and the newly established resettlement area in Cabuyao, Laguna to assess the living condition of relocatees.

During his interaction with the families, De Castro vowed to speed up the installation of power and water facilities as well as the holding of frequent medical missions.