For the improvement of bilateral trade between Kuwait and the Philippines ESTABLISHMENT OF CHAMBER OF COMMERCE EYED

08 March 2006

Returning from his successful mission in Kuwait, Vice President Noli 'Kabayan' De Castro revealed yesterday that the Kuwaiti Government is eyeing for the establishment of a chamber of commerce between the country and the Philippines to maximize and enhance trade relations.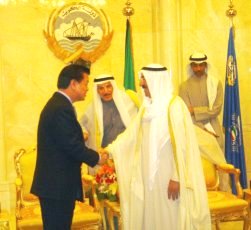 SUCCESSFUL KUWAITI MISSION. Vice President Noli 'Kabayan' De Castro congratulates newly installed Emir of Kuwait, Sheik Sabah Al-Ahmed Al-Jaber Al-Sabah last Monday (March 6). The Vice President likewise successfully obtained the Emir's assurance that he will do his best to save the life of OFW Marilou Ranario. Ranario is currently appealing a death sentence by a Kuwaiti lower court. (03/08/06)

He said investors in Kuwait would like to find out more about investment potentials in the Philippines and how Filipinos can make their own investments in the Arab nation.

De Castro learned from the new Prime Minister of Kuwait, Sheikh Nasser, that the country's economic
leaders are quite impressed with the performance of the 85,000 Filipino workers in Kuwait and recognized their contribution to the recuperating economy of the nation.

"The Prime Minister expressed extreme satisfaction over the performance of the OFWs in Kuwait, as he described them as highly qualified, devoted, honest and 'perfect'. Prime Minister Sheikh Nasser is looking forward to the possibility of doubling the number even up to 200,000 more Filipino workers in their country, he said.

While in Kuwait, De Castro got an assurance from the newly-installed Emir of Kuwait that the latter would do what he can to spare the life of OFW Marilou Ranario, who was sentenced to death by hanging for the killing of her Kuwaiti employer.

After extending his condolences on the death of their beloved Emir Sheik Jaber Al-Ahmed Al-Sabah and congratulating the new Emir Sheik Sabah Al-Ahmad Al-Jaber Al-Sabah on behalf of the Filipino people, the Vice President brought up with Emir Sheik Sabah the Ranario case.

De Castro expressed confidence that the high level delegation team's visit to Kuwait and interaction with its leaders will bring positive development with regard to Ranario's fate.