Refer to: Ms. Dale Zapata
833-2148



1,200 BULACAN FAMILIES GET FREE MEDICINES, MEDICAL CHECK UP
12 February 2006




ABOUT 1,200 families received free medicines and medical check-up during a medical mission conducted by the Housing and Urban Development Coordinating Council (HUDCC) the other day.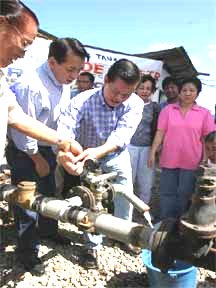 VP NOLI INAUGURATES NEW WATER FACILITY IN NORTHVILLE 4, BULACAN. Vice President and concurrent Housing and Urban Development Coordinating Council chairman Noli "Kabayan" De Castro inaugurates the new water facility for the residents of Northville 4, Brgy. Lambakin, Marilao Bulacan. With the VP were National Housing Authority General Manager Federico Laxa and Marilao Mayor Reynaldo de la Cruz . (OVP photo by Egay Montana)

The medical mission is part of government's continuing effort to further improve the living condition of relocatees in Northville 4, Barangay Lambakin, according to Vice President and HUDCC concurrent chairman Noli 'Kabayan' De Castro.


De Castro said HUDCC's mission does not end in providing homeless families with houses. He added that looking after their health is one of the many programs lined up by the government for the betterment of the relocatees.


At the same time, De Castro inaugurated the new water facility, which was recently built in the relocation site. He likewise led the groundbreaking and capsule laying ceremonies for the establishment of a community school for the children in Northville.


"We will continue in our efforts until we see that all the Northville families are living a decent life in their new homes," De Castro said.


Further, De Castro announced that Meralco will start mobilization work in the resettlement area within the next two weeks. With this new development, De Castro called on the families not to engage in illegal connections of electricity.


President Gloria Macapagal Arroyo, who later visited the relocation site, cited De Castro for his unwavering commitment to pursue the housing program for homeless Filipinos particularly the poor.


"Maraming salamat Noli sa iyong malasakit para sa ating mga pamilya dito sa Bulacan," Arroyo said during a short speech before local officials and Northville residents.


The President also thanked the various heads of the different key shelter agencies as well as the private sector for helping De Castro implement the national housing program.
---

HOME
|

© Copyright 2005 Office of the Vice President (OVP)

Management Information Services Division (MISD). All rights reserved.