Ms. Ronadale Zapata
83321148/8334507

VP NOLI TO HOUSING BENEFICIARIES: DON'T SELL YOUR HOUSES
25 November 2005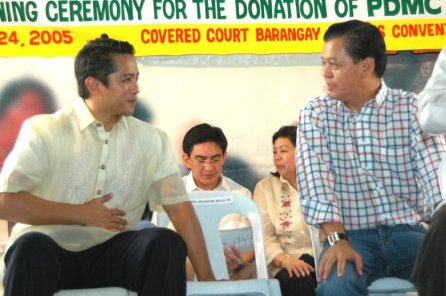 TWO VICES TALK ON HOUSING — Vice President and Housing and Urban Development Coordinating Council (HUDCC) concurrent chairman Noli 'Kabayan' De Castro exchanges views with Cavite vice-governor Jonvic Remulla on the development of housing programs in the locality. The two officials met during the awarding of certificates of title and lot entitlement and singing ceremony for the donation of PDMC properties in Rosario, Cavite last Thursday. The affair was also attended by National Home Mortgage and Finance Corporation (NHMFC) president Jopet Sison (center) and local officials. photo by Sunny Villafranca
Speaking before Caviteños during the awarding of certificates of title and lot entitlement and signing ceremony for the donation by the PNOC Development and Management Corp. (PDMC) properties in the town of Rosario the other day, De Castro urged the beneficiaries to treasure and safeguard the houses provided to them by the government.

"The houses provided to you by the government and PDMC are not only benefits for a lifetime but a legacy that you can pass on to your children and succeeding generations. Keep and take very good care of them,"
De Castro told the awardees.

De Castro lamented that there are housing beneficiaries under the Northrail relocation program who are selling their newly acquired houses. "For one reason or another, some of the families who were relocated in the north are selling their houses. This worries me because the government can't afford to give them a second chance to have their own very house and lot," he added.

Instead of selling their houses, De Castro urged the relocates to simply use their properties as a collateral to obtain small loans to start a business and augment their sources of income.

"Napakalaking bagay po ang pagkakaroon ng lupa, dahil hindi lamang po ito tirahan, kundi maaaring maging capital din para sa inyong pag-unlad. Pwede ninyong gamiting kolateral iyan para makautang ng pondong pang-negosyo," De Castro said.

Supporting the Vice President's view, Cavite vice governor Jonvic Remulla said government efforts to bring a brighter future for the homeless families would go to waste if they would turn the national relocation program into a milking cow.

Remulla, one of the many local government officials nationwide who vowed to support De Castro's housing thrusts, called on Caviteños and other leaders in the locality to unite for the common goal of sheltering the homeless.

He lauded the Vice President for inspiring various local governments, non-government organizations and peoples' groups to get more involved in housing as well as bringing the homeless' dream of having their own houses into reality.

"With the Vice President at the forefront of the battle against poverty and homelessness, our people can be assured that the government is serious in pursuing the national shelter program,"
Remulla said.

Some 400 hundred families became instant beneficiaries of their own house and lots during the awarding of certificates of titles for the 25-hectare property donated by the PDMC to the government. The property serves as a socialized housing site for about 3,500 homeless families in Cavite.


Ref. VPMEDIA 05-181
---

HOME
|

© Copyright 2005 Office of the Vice President (OVP)

Management Information Services Division (MISD). All rights reserved.