Ms. Ronadale Zapata
83321148/8334507

Bulacan relocation almost completed
8,000 RAILWAY FAMILIES RESETTLED
15 November 2005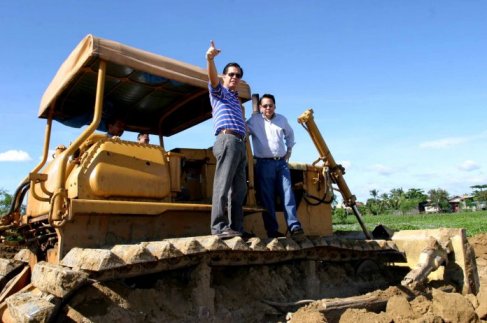 BULACAN RELOCATION ALMOST
COMPLETED.

Vice President and concurrent HUDCC
Chairman Noli 'Kabayan' De Castro and NHA General
Manager Federico Laxa inspect the ongoing operations
atop a bulldozer at Northville 3 relocation project in
Meycauyan, Bulacan. De Castro is confident that
completion of the relocation program in Bulacan would
be over by the end of this month. (OVP photo by Egay
Montaña) 11/15/04
De Castro announced recently that a total of 8,013 families from the six Bulacan towns affected by the Northrail project have already been relocated in their respective relocation sites.

The figure represents 68.83 percent of total number of affected families, leaving only 31.17 percent or 3,629 families who remains to be resettled, De Castro said.

With efforts to move out the families and the clearing operations in the railways going into full blast under the supervision of NHA, De Castro expressed confidence that completion of the relocation program in Bulacan would be over by the end of this month.

I give the credit primarily to the families who trusted the government in its efforts provide them with a better future and the various local governments for supporting the relocation program," De Castro said.

But all these, he added, would not have been possible without the relentless effort of NHA and the other key shelter agencies which helped HUDCC carry out the gigantic task of relocating thousand of families.

The Vice-President hoped for a kind weather in the following weeks as this may adversely affect operations both in the railways and relocation sites. Rains have been the major cause of delays in moving the families and clearing the railways, according to NHA general manager Federico Laxa.

Laxa however said the delays were properly and successfully managed by NHA, which has been working 'double time' in the past several months. "Our developers and other support groups are almost working 24 hours just to meet the deadline," he added.

The government is fast-tracking the relocation of families in Bulacan to give way for the start of railway improvement in the metro manila segment of the Northrail project. Construction is expected to commence before year-end.
Ref no. VPMEDIA 05-176
---

HOME
|

© Copyright 2005 Office of the Vice President (OVP)

Management Information Services Division (MISD). All rights reserved.