Ms. Ronadale Zapata
83321148/8334507

VP rallies support for socialized housing for poor
KABAYAN BELIEVES ROBUST CONSTRUCTION INDUSTRY IS SIGN
OF HEALTHY ECONOMY
13 November 2005



Vice President Noli 'Kabayan' De Castro, concurrent
Chairman of the Housing and Urban Development
Coordinating Council (HUDCC), underscored the
importance of the local construction industry
especially its contribution to job employment and a
healthier economic state in his speech before
participants and guests of the PHILCONSTRUCT 2005 held
at the World Trade Center. The event was led by
organizer Philippine Constructors Association, Inc.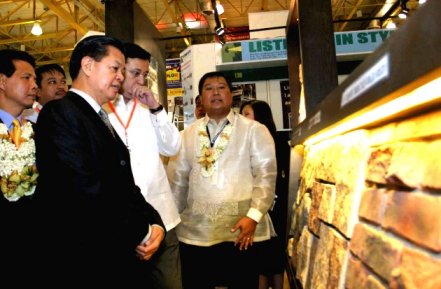 VP AT THE PHILCONSTRUCT 2005
EXHIBITION.

Vice President and concurrent HUDCC chair
Noli 'Kabayan' De Castro comes across the new look of
Stone Age cobblestone while visiting the exhibits at
the 15th Phil. International Construction Equipment
and Building Materials Exhibition and Tech Forum
(PHILCONSTRUCT 2005) held at the World Trade Center,
Pasay City. With the VP are (from left): HLURB
Commissioner Romulo Fabul; HGC Pres. Bong Bongolan;
Pag-IBIG Pres. Romero Quimbo and Emilio Tumbocon of
Philconstruct 2005. (OVP photo by Egay Montaña 11/13/05)
In proving his point, Vice President De Castro cited
the multiplier effect of local housing projects, a
main component of the construction industry. Because
of this multiplier effect, every peso spent for one
housing unit is equivalent to 16.6 pesos added to the
gross national product as a result of the various
industries involved in the construction of the housing
units.
The Vice President mentioned that among the other
sectors benefited a rising construction industry are
suppliers and sellers of cement, steel bars, wood,
nails, iron sheets and other construction materials.
Also benefited is the manual labor sector as
construction is a labor-intensive activity. For a
major housing project could give employment to more
than a million urban and rural construction workers.
For example, to build a low-cost housing unit, no less
than eight workers are needed for an estimated three
weeks or a total of 124 man-days. And after the house
has been built, painting and finishing touches are
undertaken after which furniture and other appliances
are then purchased.
Vice President De Castro took the occasion to gently
remind his audience that even as the four-day trade
show would showcase the latest trends in construction
materials, equipments and technologies, they should
also remember that there are still many Filipinos
whose needs are very simple and basic: four sturdy
walls, a roof with no leaks, and the security of
having a place to call home.
Philippine construction has truly gone a long way. And
yet, the culture of crude, do-it-yourself construction
still exists among our less-fortunate kababayans. Ang
tinutukoy ko po ay ang mga tinatawag nating informal
settlers na nagtatayo ng kanilang bahay sa mga lugar
na hindi naman nababagay tirhan. Gamit ang materyales
na makukuha nila sa tabi-tabi. Such is the landscape
of poverty housing.
The Vice President explained that these informal
settlers build their shanties along railway tracks, on
esteros, under bridges and other places they do not
own. He sympathetically refers to their attempt to
have a roof over their heads as a kind of construction
dictated by necessity, desperation and limited means.
He announced that the national shelter program for
both the informal and formal sectors is incorporated
in the medium term Philippine development plan and
that the housing needs of some one million families
for 2005-2010 would need 217 billion pesos with top
priority going to the poorest of the poor and 68
percent of the total target dedicated to socialized
housing.
Faced with these challenges, Vice President De Castro
then courted support from the Philippine Constructors
Association, Inc. for these programs for the poor the
same way as private groups built classrooms,
multi-purpose halls and basketball court, donated roof
paint and provided livelihood programs for the new
villagers of the Northville communities which were
built for informal settlers relocated by the Northrail
project.
Ref no. VPMEDIA 05-174