Refer to: Ms. Dale Zapata
83321148/8334507

CONSUMER PROTECTION MEANS QUALITY PRODUCTS—VP NOLI
05 October 2005

"Better quality control is the best protection manufacturers can offer the consuming public."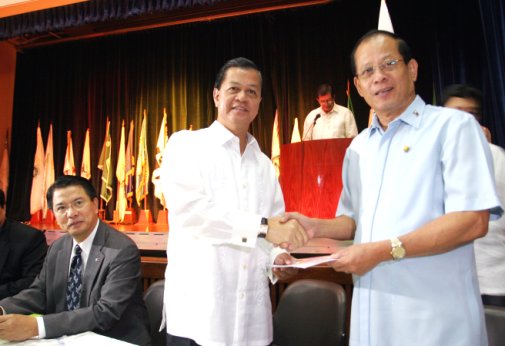 Vice President Noli 'Kabayan' De Castro
and Agriculture Secretary Domingo F. Panganiban officially launched the nationwide search for Huwaran Palenke during the opening ceremony of the 2005 Consumers Welfare Month. At left is Department of Trade and Industry Secretary Peter Favilla (OVP photo by Egay Montana 10/05/05)
This was the key message of Vice President Noli 'Kabayan' De Castro during the celebration of the Consumers' Welfare Month at the Department of Agriculture (DA) in Quezon City yesterday as he called for more measures to protect consumers from counterfeit, overpriced and dangerous products.


In his speech, De Castro noted that there are economic variables that are beyond our control like rising oil prices in the world market which, among others, cause the prices of food in the country to increase.
"If we can't really stop the prices of food from rising, we must at least offer quality products to our consumers," De Castro told his audience mostly composed by representatives from government agencies like the DA, the Department of Health (DoH), Department of Energy (DOE), Department of Education (DepEd) and the Department of Environment and Natural Resources (DENR).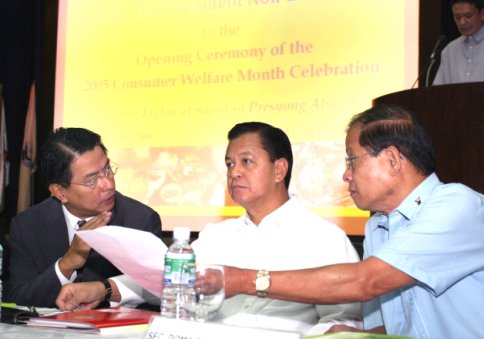 Vice President Noli 'Kabayan' De Castro
huddles with
Department of Agriculture
Secretary Domingo F. Panganiban (right) and
Department of Trade and Industry
Secretary Peter Favilla (left) during the opening ceremony of the 2005 Consumers Welfare Month. (OVP photo by Egay Montana 10/05/05)
To protect the consumers, De Castro called for freedom of choice, safe products, affordable prices and quality consumer goods.

De Castro said consumers deserved to be protected since consumer spending saved the country's economy from collapsing during the last Asian currency crisis.


"We can't deny the big contribution of consumer expenditures in the gross national product of the country during the latter part of the 1990's," he said.


The same consumer spending is presently providing incentives to various producers to manufacture products for the market, he added.
Ref. VPMEDIA 05-141