Refer to: Ms. Dale Zapata
83321148/8334507

VP NOLI HAILS CMP IN ANTIPOLO, QUEZON CITY
18 September 2005
VICE-President and
Housing and Urban Development Coordinating Council (HUDCC)
concurrent chairman Noli 'Kabayan' De Castro hailed the Community Mortgage Program (CMP) of the government as it proves to be the means of providing shelter to millions of poor Filipinos.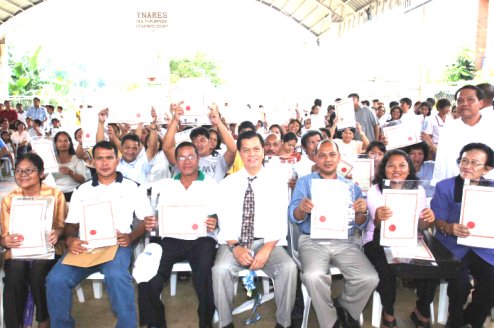 LAHAT KAMI DITO MAY LOTE NA!
This seems to be the message of proud lot awardees in Bgy. Dalig 1 Antipolo City, Rizal through the Community Mortgage Program (CMP) who posed with Vice President and Housing and Urban Development Coordinating Council (HUDCC) concurrent chairman Noli 'Kabayan' De Castro after the awarding ceremonies of individual lot titles under the Community Mortgage Program (CMP) of the National Home Mortgage Finance Corporation (NHMFC). The residents were earlier given their land titles by Vice President De Castro who was assisted by Antipolo City Mayor Antonio Gatlabayan and Congressman Sumulong. (OVP photo by Egay Montaña)
The CMP implementation is a difficult job but it's serving our poor and homeless countrymen very well, said De Castro who awarded individualized mother titles to 70 fully-paid beneficiaries of a CMP project in Antipolo, Rizal the other day.
"With CMP, we're shooting three birds with one stone. First, we eliminate the rift between landowners and informal settlers. Second, we solve the illegal squatting problem. And lastly, we provide the poor with the chance to have house and lots that they call their own," De Castro said.
Under CMP, settlers illegally occupying private lands are required to form into an organized community to negotiate with the landowner for the purchase of the property. If both parties agree at a reasonable price, the government through the National Home Mortgage and Finance Corporation (NHMFC) lends the money to community in order to buy the land from the owner.
"This wonderful scheme makes everybody happy," De Castro said during the awarding ceremonies.
It took 10 years of responsible payment of dues to NHMFC for the 70 new and proud landowners representing the 347 CMP beneficiaries in barangay Dalig in Antipolo before they finally got their land titles.
The group applied for a P9-million loan with the NHMFC before officially activating itself under the CMP
program in December 19, 1990.
In Quezon City meanwhile, De Castro awarded a P1.8-million check to landowners Raul and Remedios Vicencio representing 50 percent of loan proceeds for the property being acquired by 56 CMP beneficiaries in Purok 1, Old Balara.
De Castro lauded the landowners for supporting the national housing program and urged the CMP
beneficiaries to do their part in fulfilling their obligation with NHMFC.
Ref no. VPMEDIA 05-127