Refer to: Ms. Dale Zapata
833-4507/833-2148/ 09178143322
VP NOLI CONTINUES TO WORK AMID POLITICAL MELEE

14 July 2005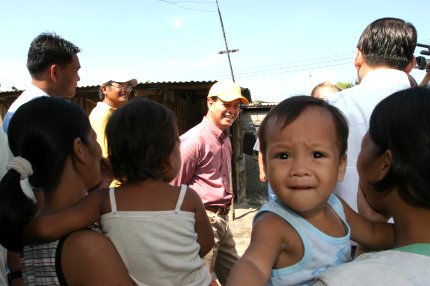 Amidst the current political crisis, Vice President and concurrent Housing and Urban Development Coordinating Council (HUDCC) chairman Noli "Kabayan" De Castro buckled down to work yesterday as he inspected the clearing operations for the north rail project as well as the Office of the Vice President (OVP) / HUDCC-led medical and dental missions for relocatees in Balagtas, Bulacan yesterday.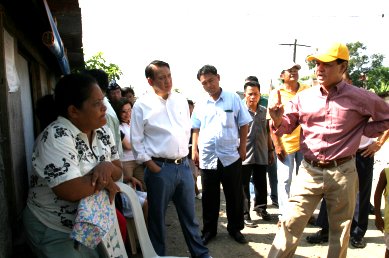 Some 1500 relocatees participated in the medical and dental missions conducted by OVP and HUDCC yesterday in a resettlement site in Baranggay Santol.
Free medicines as well as basic medical and dental services were provided to the poor families during the whole-day activity made possible by volunteer doctors.
Vice President De Castro went to the Santol relocation site to personally check out the holding of such missions and to find out the conditions of the beneficiaries.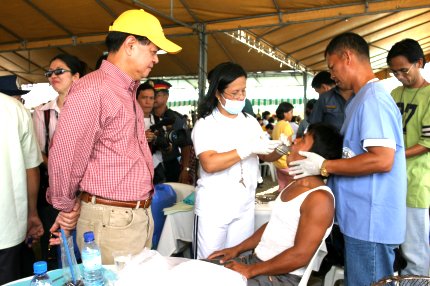 De Castro is pushing for more medical and dental missions for families affected by the north rail project in a bid to help them cope with the rising cost of medicines and health services.
Before proceeding to Baranggay Santol, De Castro inspected the cleared Philippine National Railway (PNR) right-of-way of informal settlers in Baranggay Longos.
De Castro instructed the National Housing Authority (NHA) to speed up the clearing operations after noticing that there are still houses to be demolished.
Nevertheless, project managers from the NHA hope to complete the railway clearing operations in Balagtas, by the end of August. Balagtas is one of the 7 towns in Bulacan covered by the northrail project.
The NHA revealed that more than 400 out of the 1,141 railway families have already been relocated to the Baranggay Santol resettlement area.
---

HOME
|

© Copyright 2005 Office of the Vice President (OVP) - Management Information Services Division (MISD). All rights reserved.