PRESS RELEASE Refer to: Ms. Dale Zapata
17 June 2005 8332148/8334507
KABAYAN TO PROD GOV'T AGENCIES ON COUNTRY'S MILLENIUM DEV'T GOALS
>
To ensure that the programs incorporated in the Millennium Development Goals (MDG) of the Philippines are adhered to and implemented as projected, Vice President and concurrent
Housing and Urban Development Coordinating Council (HUDCC)
Chairman Noli 'Kabayan' De Castro volunteered to personally oversee particular programs from the government agencies directly concerned.
This was the assurance given by Vice President De Castro in a speech he delivered at the 2nd Philippine Progress Report on the Millennium Development Goals at the Manila Hotel recently.
In the same speech, he also reiterated that, as the Vice President, he would work closely with President Arroyo, the various government line agencies, local government units, national and international development organizations, non-governmental organizations, and civil society groups in pursuing the administration's 10-point agenda and the millennium development goals as he is confident that the government shall be steadfast and focused on our development targets.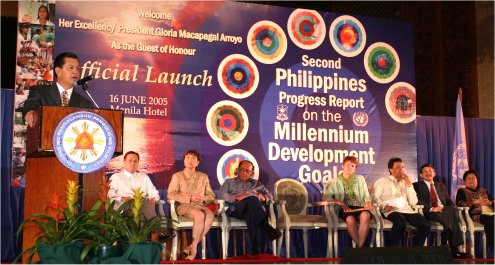 Mananatiling masigasig ang ating pamahalaan sa pagsulong ng millennium development goals… that is why I now call on each of you to get ready, roll up your sleeves, and start working towards our dream of a better life for all.
Vice President De Castro intimated that another compelling reason for his commitment in pursuing the MDGs is his wish 'not to see my children and my grand children live in uncertainty amidst a nation beset by a growing population living in extreme poverty, hunger and other forms of deprivation…I know that we have the power to change our destiny."
The Vice President also conveyed that the HUDCC, the highest policy making body in housing and urban development of which he is the concurrent chairman, takes seriously its designation to take the lead in addressing target 12 of goal 7 which is to provide adequate housing to at least 100 million slum dwellers by 2015. He is confident that with the help of the private sector, they will be able to meet the daunting task of meeting the targeted number of housing units.
He then paid tribute to Ms. Deborah Landey, who is ending her stint as resident coordinator and United Nation Development Program (UNDP) resident representative for her support to the Philippine government's efforts to uplift the lives of the Filipino poor.
Ref no. VPMEDIA 05-073

---

HOME
|


© Copyright 2005, Office of the Vice President (OVP) - Management Information Services Division (MISD). All rights reserved.