Refer to: Ms. Dale Zapata
833-4507/833-2148/ 09178143322
Do not give in to destabilizers – VP Noli
June 12, 2005

Standing on the very spot where Philippine Independence was declared 107 years ago, Vice President Noli "Kabayan" De Castro called on the Filipino people to protect democracy and to resist those who are trying to spread disorder.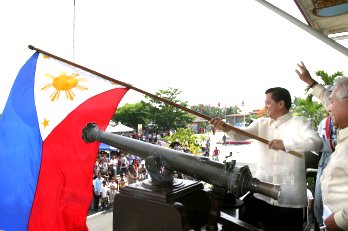 In his message during the celebration of Independence Day at the Aguinaldo Shrine in Kawit, Cavite, the Vice President emphasized the need for unity and restraint as emotions run high in the face of recent accusations against President Arroyo.
"Let us not be swayed by those who are trying to provoke us. Let us not allow ourselves to be used by some politicians who are only promoting their own interests," De Castro said.
Referring to calls for President Arroyo's and his resignation, De Castro reiterated that he has no intentions of abandoning his post.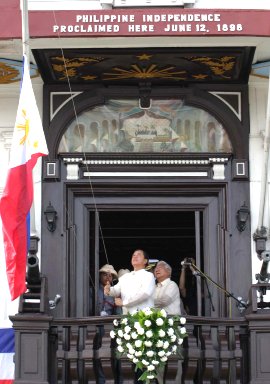 "I was elected by the Filipino people, and I swore to carry out my responsibilities as Vice President. That is what I intend to do. My concern now is how to help our countrymen who will be affected by recent events," he said.
De Castro asked the people to remember and cherish the freedom that our forefathers dreamt of and fought for more than a century ago, and which became the foundation of our nation as the first democratic republic in Asia.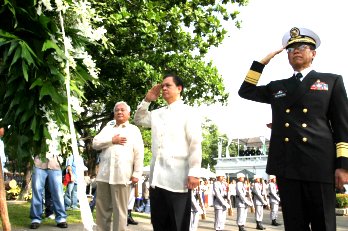 "Let us not forget what our heroes have fought for, and what we ourselves stood up for during EDSA I and II," he said.
"We are called once again to stand up—not for Gloria, not for Noli, but for a prosperous and peaceful future for our country," he added.

Ref no. VPMEDIA 05-071
---

HOME
|

© Copyright 2005 Office of the Vice President (OVP) - Management Information Services Division (MISD). All rights reserved.