An outstanding lawmaker and a devoted public servant, Emmanuel Pelaez was born on November 30, 1915 in Medina, Misamis Oriental. Pelaez studied in Cagayan de Oro Elementary School where he got the highest honors. He then went to the Ateneo de Manila High School and got his Associate in Arts at the Cebu UP Junior College.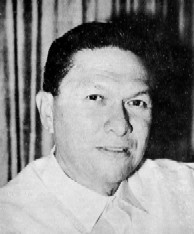 He received his law degree from the University of Manila in 1938, and in the same year topped the Bar examinations. Thereafter, he worked as Senate clerk, reporter, court translator and practiced law with two law firms. In 1945 Pelaez was Special Prosecutor of the People's Court and in 1949 was voted Congressman, representing his home province. During his term as representative (1949-53) he was adjudged one of the Ten Outstanding Congressmen by the Congressional Press Club, one of the Ten Most Useful Congressmen by the Philippine Free Press, and one of the two Most Outstanding Congressmen by the League of Women Voters of the Philippines.
Such achievements in the Lower House of Congress literally brought him to the Senate floor in 1953-60. He was unanimously chosen Most Outstanding Senator by two organizations, the League of Women Voters of the Philippines and the Senate Press Club.
Pelaez was voted Vice President in 1961, simultaneously performing the functions of Foreign Affairs Secretary. He resigned in 1963 as DFA Secretary, after a dispute with the Macapagal administration. In the same year, he was chosen Man of the Year by the Examiner and the following year was adjudged the Most Outstanding Alumnus during the Golden Jubilee Celebration of the University of Manila.
Pelaez was again elected as Congressman in 1965, and two years later, as Senator, a post he held until the September 1972 proclamation of martial law. While he went back to private life and devoted his time to his family and law practice, he nevertheless continued to take an active interest in public affairs. In 1973, President Marcos designated him as a member of the Philippine panel in the military bases negotiations with the United States. This was his second time to serve the panel, the first time being in 1956 when he was the spokesman of the panel in the RP-US military bases negotiations then.
He involved himself actively in various civic, professional and religious societies. He served as Chairman of the Cadang-Cadang Research Foundation of the Philippines, Inc., the first Filipino scientific research foundation jointly financed by the government and the private sector for the eradication of cadang-cadang which had threatened to wipe out the coconut industry. He also headed the Philippine Coconut Planters Association, Mindanao-Sulu-Palawan Association and the Philippine National Red Cross Fund Drive in Mindanao (1958).
Aside from these, he was Chairman and/or ranking member of Philippine delegations to various international conferences. In 1978, the 63-year old lawyer and illustrious son of Misamis Oriental was once again called to render service as Assemblyman in the Interim Batasang Pambansa.