The man known for his "Filipino First" policy was a native of Talibon, Bohol. Carlos Garcia was born on November 4, 1896 to spouses Policronio Garcia and Ambrosia Polestico. Garcia studied at the Talibon Elementary School and later at the Cebu Provincial High School. Fired with an ambition to pursue higher education, he enrolled at the Siliman University in Dumaguete, Negros Oriental. He copped the coveted Malcolm four-year law scholarship and finished valedictorian at the Philippine Law School in 1923. In the same year, he landed among the first ten of Bar passers. Rather than going into private practice, he taught at the Bohol Provincial High School for two years.
Gifted with excellence in poetry in the Cebuano dialect, Garcia was given the appellations "Prince of Visayan Poets" and "Bard from Bohol". He was also blessed with oratorical ability.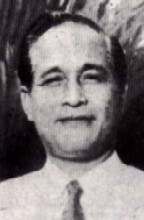 Carlos' interest in politics undoubtedly came from his father, who was municipal mayor for four consecutive terms. His political career started in 1925 when he won as representative in the third district of his province. His political experience broadened when he was elected provincial governor for two terms, 1931 and 1940 respectively. He was elected into the senate in 1941; however, the outbreak of the Pacific War prevented the elected senators and congressmen from assuming office. Garcia then joined the freedom-loving Filipinos in the guerilla movement against the invading Imperial Japanese forces. With the approval of President Manuel Quezon, who was in exile in 1953, he served as high adviser of the civil government organized in Bohol. During the reestablishment of the Commonwealth Government, Garcia won as senator under the Nacionalista Party and became a member of the Upper House until 1953.
Garcia was picked as candidate for Vice President by the Nacionalista Party with Ramon Magsaysay as running mate for President. They triumphed over the ruling Liberal Party. He concurrently served as Secretary of Foreign Affairs and was sworn in as the fourth president of the Republic on March 18, 1957 after Magsaysay's death.
During his administration, he acted on the Bohlen Serrano Agreement which shortened the US Bases lease of 99 years to 25 years and renewable after every five years. He was also responsible for the retail trade law which greatly affected the Chinese businessmen in the country.
After his term, he ran for reelection but lost to Diosdado Macapagal. However, his former constituents supported his bid as delegate to the 1971 Constitutional Convention. He won as President of said Convention, but succumbed to heart attack on June 14,1971, three days after his election. Surviving him were his widow, Mrs. Leonila (Inday) Dimataga-Garcia, a pharmacist, and their only daughter, Linda Garcia-Campos.