Born on April 19, 1937, in Tondo, Manila Joseph Ejercito grew up in San Juan, Rizal. He studied at the Ateneo de Manila University and the Mapua Institute of Technology. He became a movie actor in his early twenties, adopting the name Estrada, and has since established himself as a living legend in local filmdom. He is a five-time awardee for Best Actor and repeated the feat by winning the Best Picture for an equal number of times.
He entered politics in 1967, was elected mayor of the Municipality of San Juan which he served for more than 16 continuous years, stepping down in the aftermath of the EDSA Revolution in 1986. He established in the movie industry the MOWELFUND which provides movie industry workers with financial and professional assistance.
He was elected Senator in 1987 and was appointed Chairman of three committees (Committees on Cultural Communities, Rural Development, and Public Works). He was one of the 12 Senators who voted for the termination of the RP-US Military Bases Agreement.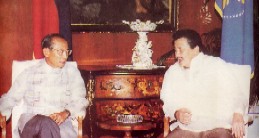 He was elected Vice President of the Philippines in 1992, and opted to cooperate with President Fidel V. Ramos by serving as Chairman of the Presidential Anti-Crime Commission (PACC). He resigned as PACC Chairman in June 1997. In the May 1998 elections he ran for President against nine other candidates and won with 10,722, 295 votes as against 4,268, 483 votes for the second placer. Inaugurated on June 30, 1998, his administration was plagued by scandals. Accused of betrayal of the public trust, culpable violation of the Constitution, bribery and graft and corruption, he was being tried by the Senate when he was ousted by "people power" in January 2001. He was subsequently accused in court of plunder and is presently being tried by the Sandiganbayan. In spite of his difficulties with the law, he still has a large following of loyal supporters who implicitly trust and repose their faith in him.
Joseph Estrada is married to Dr. Luisa "Loi" Pimentel by whom he has three children. His eldest son is currently Mayor of San Juan. President Estrada has also officially recognized seven other children, born out of wedlock.