Salvador "Doy" H. Laurel has served the country with exemplary dedication for more than 30 years as Senator, Assemblyman, Vice President, Secretary of Foreign Affairs and as Chairman of the Philippine Centennial Commission.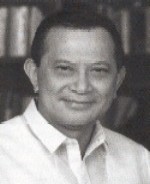 Elected Senator in 1967, he authored the Five "Justice for the Poor" laws, also called "Laurel Laws", nine laws on Judicial Reforms, the Government Reorganization Act, and the amendment to the Land Reform Code. Doy Laurel became an Assemblyman in the Batasang Pambansa in 1978. He held the distinction of being the only Member of Parliament who resigned on September 16, 1983 in open protest against the assassination of Senator Benigno S. Aquino, Jr.
He placed the welfare of country and people over personal interest and ambition by yielding in December 1985 his bid for the presidency to make way for a united opposition against an oppressive regime. He was elected Vice President of the Philippines in February 1986.
Born on November 18, 1928, Salvador Laurel is the son of the late Jose P. Laurel, President of the Second Philippine Republic, and Paciencia Hidalgo. Both are natives of Tanuan, Batangas. He must have inherited his legal expertise from his forefathers. His grandfather Sotero Remoquillo Laurel was a delegate to the Malolos Constitutional Convention. His father became Justice of the Supreme Court and was a delegate to the 1935 Constitutional Convention.
Doy upheld the high academic standards of his parents. He went to the Ateneo De Manila Grade School and obtained his high school education at the De La Salle College. He took up Pre-Medicine and Pre-Law courses at the University of the Philippines, where he earned a Bachelor of Laws degree in 1952. He later earned both his Master of Laws and Doctor of Juridical Science from the Yale University.
Vice President Laurel also taught Labor Law and Jurisprudence at Lyceum of the Philippines. He established his law firms, Salvador H. Laurel and Associates and Laurel Law Offices, where he serves as Senior Partner up to the present. Numerous awards have been given him, among them: "Most Outstanding Legal Aid Lawyer of the World" (1976) awarded by the International Bar Association and the "Lawyer of the Year" by the Justice and Court Reporters Association of the Philippines. He was the "Most Outstanding Senator" for four consecutive years (1968-1971) and has authored many articles and books on law.
He is married to Celia Franco Diaz. Their children are Susana, Celine, Victor (Cocoy), David, Lawrence, Stella, Kris, and Marissa.
He died of cancer on January 28, 2004 in Atherton, California. After his cremation, his ashes were flown back to the country.
Researched and Written by: Ms. Ma. Christina G. Castillo
RDSD