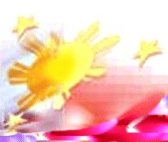 INVITATION TO BID

The Office of the Vice-President of the Philippines invites interested bidders for the following items:
Unserviceable Copying machine, Electric fans, Shredder, Bundy clock, Mobile phones, etc.

Unserviceable computer, printers, typewriters, etc.

Unserviceable office filing cabinets, chairs, tables, used lumbers, etc.
Interested bidders may obtain information and secure bid documents from

Ma. Adoracion L. Camangeg, Head, Property Unit

at 7
TH
Flr. PNB Financial Center Building, D. Macapagal Boulevard, Pasay City. Bids will be accepted until

2:00 p.m

. on
February 27, 2006
and will be opened immediately thereafter in the same venue in the presence of bidders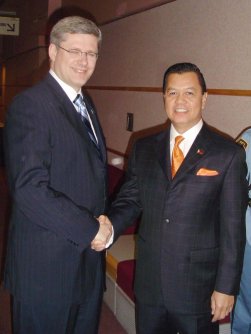 Vice President and concurrent HUDCC chair Noli 'Kabayan' De Castro is shown with Canadian Prime Minister Stephen Harper shortly before the opening of the Third World Urban Forum (WUF 3) in Vancouver, Canada. The Vice President delivered a message today during the opening of WUF 3 highlighting the progress of the UN-Habitat supported campaigns on "secure tenure and good urban governance". De Castro is also scheduled to participate in the Dialogue on mainstreaming the Millennium Development Goals (MDGs) in the National Action Agenda, particularly Goal 7, Target 11 on improving the lives of slum dwellers and will talk on the Northrail Relocation Experience. About 150 delegates from the Philippines attended the WUF, including Senator Biazon, Congressman Zialcita, city mayors and members of the civil society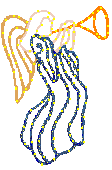 ANNOUNCEMENTS
PNB Financial Center
President Diosdado Macapagal Blvd., Pasay City
Telephone Nos. 833-3339; 833-3311; 833-3165
Facsimile Nos. 831-2618
Pageloads
View Stats
Management Information Services Division (MISD). All Rights Reserved.


VACANT POSITIONS


The Office of the Vice President of the Philippines is in need of
one (1) Accountant II (SG 15)
Minimum Qualifications:
- Certified Public Accountant (CPA)
- 2 years of relevant experience
- 4 hours of relevant training
- Not more than 30 years old
Please submit your resume, transcript of records and recent photo at OVP, 7th Flr. PNB Financial Center, Pres. Diosdado Macapagal Blvd., Pasay City
Signed Julieta Villadelrey
Chief Accountant 5/24/06
For inquiries please call the
Personnel Head Remedios A. Aguila at Tel #: 831-2622.


You can email the Vice President at vp@ovp.gov.ph